Surly Bikes is a bicycle company that is based in Bloomington, Minnesota, America. The brand was founded in 1998 as a branch of the Quality Bicycle Products, which manufactures and distributes bikes and bike parts.
Almost all of Surly Bikes' products, including their forks and frames are created in Taiwan.
There is a huge infrastructure for high-quality bike manufacturing in Taiwan that ensures that the products are of the highest quality.
Where are Surly bikes made? Manufacturing their bikes and parts in Taiwan allow Surly bikes to maintain cheap and fair prices. Surly Bikes frames are made by hand and are created only by bicycle professionals that are highly experienced in the bike manufacturing industry.
About Surly Bikes
The Surly bikes company was established at the headquarters of Quality Bicycle Products in the late 1990s. It reflected the ethos of some of its other established brands like Salsa Cycles. 
Surly bikes headquarters is based in Bloomington. It is a bicycle wholesaler that has become one of the leaders in the bike industry.
Surly bikes are a brand of Quality Bicycle Products, which owns other bicycle brands. QPB is the sole distributor of Surly Bikes. 
Fat bikes
During the time of its foundation, "fat bikes" was becoming popular among consumers as an option for winter use in colder climates.
However, many people considered "fat bikes" to be too unusual and too costly to make. 
The founder of Quality Bicycle Products hoped to make a mountain bike that cycled with a single speed. Thus, Surly Bike's first bicycle was created and named the Rat Race.
This bicycle was soon renamed "One By One." Soon, Surly began to offer a range of bicycle parts. 
They later released the Cross-Check bicycle, a road bike, and a trail bike named the Karate Monkey.
In the beginning, Surly Bikes was renowned for its single-speed bicycles, but it later became famous for a new style of bicycle that it helped to create, the "fat bike."
Fat bikes are easily recognized for their wider, bigger tires. The fat bike is designed for riding on every type of terrain.
Surly didn't come up with the idea for fat bikes, but it did help to make this category of bicycles much more popular.
Its Pugsley and Moonlander models helped to put the Surly Bike brand on the map. 
Fat Bike Parts
Some other brands were creating fat bikes, but these were custom made or individual models, rather than mass production.
At that time, there were no tires or rims available to buy for these bikes. Only when Surly Bikes broke into the industry, did fat bike rims and tires become available. Soon, fatbikes became mainstream as Surly Bikes broke onto the scene.
Surly Bikes and Quality Bicycle Products already owned machines that made the production of fat bike rims and tires, easy and cost-effective.
Most brands that build fat bikes now use Surly Bikes' tires. 
Quality Bicycle Products wanted to create standard parts for "fat bikes" to make the production of them easier and cheaper.
A few years later, the Surly Bikes brand became famous among bike enthusiasts for their single-speed bicycles. In 2010, however, it became popular for its "fatbikes" with thicker tires.
The company was able to produce this bike in a cost-effective way because of the machines it already owned. Soon, multiple brands that made fat bikes utilized Surly Bicycle's tires. 
Surly Bicycle's fat bike was introduced in 2005 and was appraised for its unique common hub that allowed for alterations, various gear combinations, and a capability to endure various conditions. 
The rise of Surly Bikes
Fat bikes exploded onto the bike industry because of how fun they are to ride. A bike such as the Pugsley model can be ridden on any terrain type, adding to their attractiveness.
It can also carry a significant amount of weight and anybody that has ridden one will understand the thrill. 
Surly Bikes now sells its fat bikes in every one of the fifty states in the United States, as well as in Japan, Russia, Europe. It is constantly expanding to sell in more countries and its distribution across the world is always growing.
The brand has become really popular in Japan and its popularity has in recent months exploded in Norway.
Bicycle shops in South America and Africa are also inquiring about stocking Surly Bikes.  
Surly Bikes has also released its latest model, the Krampus, a mountain bike. Surly has also moved on from its original manufacturing space in Quality Bike Products' headquarters to an independent office in Minneapolis.
The new office doesn't see the bikes, but it is open to the public so that consumers can talk to Surly and try out some of their bikes. 
Surly Bike's Manufacturing 
Surly bikes are manufactured in Taiwan. The brand works closely with the manufacturers in Taiwan and has worked with the same business partners there for fourteen years. 
Most of Surly Bikes products including their forks and frames are made in Taiwan. The large infrastructure for bicycle manufacturing in Taiwan allows for high-quality parts.
Surly Bikes' warranty rate is under 1%, proving that the parts are of high quality. 
Surly Bikes and the people that they work with in Taiwan have been long-term friends as well as business partners. Surly Bikes often visits Taiwan and are deeply invested in the welfare of their business partners there.
They visit the Taiwanese manufacturers regularly, more than 3 times per year, check that everything is running smoothly, problem solve, and communicate with their business partners in person.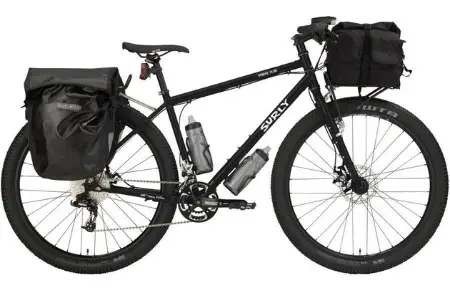 Surly Bikes frames are manufactured in Taiwan by hand and are made only by professionals that are highly experienced in the bike manufacturing industry. 
Manufacturing their parts abroad allows Surly bikes to maintain reasonable and fair prices. Surly bikes do not claim to be a custom bicycle company. 
Surly Bikes work closely with their manufacturers in Taiwan to ensure that their products are of high-quality and made with only good quality materials.
They also commit to ensuring that they use only materials and manufacturing methods that are good for the health of those that create and use them.
Surly Bikes also promise to find ways to produce their products in a cleaner and more efficient way, which creates less waste, to protect the environment. 
Their bicycle designs are durable and versatile, meaning that they will last for many years to come. Surly Bikes uses steel for most of its products, a material that is durable and simple to recycle.
The use of powder coating rather than wet paint means that fewer solvents are used. 
Surly Bikes Products
Surly Bikes is not a custom bicycle manufacturer and it doesn't claim to be. They do not offer a custom build service or alteration for any of their bikes.
Surly does not build bikes as per custom geometries, colors forks, or different bike frames. 
There are many custom bike frame builders, but Surly Bikes does not claim to be one.
They do, however, have a wide selection of bike frame sizes that should suit the majority of the cycling population. 
Nor does Surly Bikes offer the option to buy a frame in a different color paint or no paint. After purchase, you can have your frame painted or powder coated locally.
They do offer decal kits for all of their bikes that can be placed straight on top of the new paint.
Purchase the decal kits beforehand and send them with your bike to the paint shop so that they can lay a clear coat on top of the decals to secure them. 
Purchasing Surly Bikes
You can purchase any Surly Bike products including bikes and frames at almost every bicycle store in the United States that has an account with Quality Bicycle Products, Surly Bikes' sole distributor in the United States.
On the Surly website, you can view the Surly Dealer Locator that will help you to locate the nearest store to you.
Only stores with an account with Quality Bicycle Products will have a true understanding of Surly Bikes' unique products. 
Out of the United States, Surly Bikes has a range of distributors based on each country that stocks their products that will be able to help you with your desires. 
It is recommended that you visit a Surly Bike partner store so that you can get help to ensure that the bike properly fits you.
However, in the case that in-store fitting is not possible, Surly Bikes have a basic bike fit chart on its website. 
To sum up
Surly Bikes is located in Bloomington, Minnesota, America but their bikes and products are manufactured in Taiwan.
The company is a branch of Quality Bicycle Products that was founded in 1998. It manufactures and distributes bikes and bike parts across the United States and the rest of the world.
Surly's products are made in Taiwan because of the large infrastructure there allows Surly Bikes to maintain their reasonable prices.
References
https://surlybikes.com/blog/my_2_cents
https://surlybikes.com/info_hole/spew/some_things_about_our_steel