Are you looking for a Trek Marlin 7 review, or would you simply like to buy the best cheap mountain bike for your next trails? If so, the Trek Marlin 7 could be the perfect solution!
As a cycling enthusiast, I enjoy the wind in my face, the smell of fresh pine, and mud splatter everywhere just about as much as any other biker out there.
But to complete that experience, the bike has got to be good. 
When you want to take your ride from adequate to capable, you're ready to upgrade your mountain bike.
You need something that can rumble down the trail, take a beating, and ultimately, perform.
Maybe you're even ready to take a stab at mountain bike racing. The Marlin 7 could be your entry into the world of more serious biking, while still giving you the adaptability of use.
This Trek Marlin 7 review is an in-depth detailing of its features and capabilities. So, helmet on, gear up, and let's ride. 
My Opinion About Trek Marlin 7
The geometry of the Trek Marlin 7 is inspired by racing bikes. The components are priced in the middle, but the quality is not affected.
The bike is ideal for aspiring racers and commuters alike. The bike is an excellent choice and definitely worth buying.
All in all, the Marlin 7 is an incredible purchase. You get a lot for your money and you'll have a bike that can perform yet is also easy to upgrade.
Commute to work, shred the trail with your kiddos or sign up for your first race. The Marlin 7 knows how to work and look good doing it too. 
? Aluminum frame with race-ready geometry
? 2 x 9-speed drivetrain
? Available in seven sizes from XS up to XXL
? Trek Marlin 7 Price: Approx. $799
? Weight: 31.4 lb.
Trek: The Brand
The founders of Trek started building steel bikes out of a barn in 1976 and since that time have expanded their regime to include other brand titans like Bontrager and Gary Fisher.
They might just be the most well-known bike manufacturer in the field – and for good reason!
Trek bikes have an established base of loyal fans due to their great specs, quality builds, and competitive pricing.
They also commit to social responsibility promises by supporting organizations, sponsoring programs, and leading the charge on encouraging bike transportation over cars. 
Enough jabber let's talk Marlin 7.
The Trek Marlin 7 Features
This top-rated bike by Trek is a hardtail beau. It's an affordable intermediate level bike with a dream to race. The first rule of cycling: look good.
The Marlin 7 measures up as a sleek, dark, and solid stunner. It's easy to look cool, but how are the specs? Turns out that they line up in this race-ready mountain rider. 
The Trek Marlin is a mid-range mountain bike. You'll be paying more than a budget beginner bike, but certainly not the top dollar.
It happens to be one of their most popular bikes due to the perfect combo of value and performance. 
5 Great Features I Love About The Marlin 7
| Features | Comments |
| --- | --- |
| Rock Mounts | With rear mounts it is a good choice for touring and commuting. |
| Fork Lockout | This switch is easy to reach while riding and handy when you're rolling on pavement and don't need the front suspension. |
| 2X9 Drivetrain | The 36/22 chainrings give you all the go-fast and get-up-the-hill gearing you'll need. |
| Internal Routing | Hidden cables add to the sleek and fast aesthetic of this bike. |
| Gear Indicator | The display on the rear shifter serves as a nice reminder of which gear you're using. |
Marlin 7 Bike body
? Aluminum frame: lightweight and durable. 
? Comes in two colors: Matte Nautical Navy and Marigold-Radioactive Red Fade
? Rack and kickstand mounts
? Blendr Stem: for seamless gear integration, like headlights and bike computers
? Internal cable routing: keeps cables out of the way and protected from the elements. 
? Front fork suspension lockout: perfect for long flat path riding
? Wheel size: 27.5" on the size small frame, 29" on other frame sizes. Bontrager tires and Presta valves. 
? 2.2-inch Bontrager XR2 Comp Tires
? Weight limit of 300lbs. 
? Bike weight: size Medium weighs 31.4lbs
Components
? 10 speed Shimano shifter: gives you plenty of gear space to find the right feel
? Shimano rear derailleur and cassette: reliable rear shifting
? Platform pedal: an entry-level classic and easy to upgrade
? Bontrager saddle, seat post, stem, and handlebar
? Brakes: Shimano hydraulic disc
The Fit
This bike is set like a racer. It's got an aggressive fit and a sloping top tube (69.5 degrees to be exact) to encourage a more aerodynamic posture like that of a racer.
And that's exactly who it was made for. This isn't going to be your beach-cruiser. 
The Marlin 7 is available in 7 frame sizes to accommodate any size rider. 
This bike will fit riders in the following range:
From frame size XS for riders 4'6 tall with a 25.2" inseam
To frame size 2XL for riders 6'8 tall with a 37.4" inseam
Trek was even mindful of rider size down to the detail of brake-lever reach and handlebar width.
On the XS and S frame sizes, the top tubes have a slight downward curve to better suit riders with short inseams.
They also feature a wheel diameter that is 1.5" smaller than the larger sized frames. 
Smaller riders won't suffer from elements that are too large for them. Easily find the right bike frame size to fit you with Trek's three-question size-finder quiz.
The Marlin 7 webpage also features a detailed dimensions map for this bike model. 
Though frames themselves are not adjustable, the rider can get the perfect fit in their frame size by shifting the height of the seat tube and purchasing a new handlebar stem.
What's the right Mountain bike size for me? 
In the table below you will find a detailed Mountain bike size chart:
| Your Heigth | Your Height | Your Leg Inseam | Your Leg Inseam | Best Frame Size | Best Frame Size |
| --- | --- | --- | --- | --- | --- |
| Feet and Inches | Centimeters | Inches | Centimeters | Inches | Sizes |
| 4ft10 to 5ft1 | 148cm to 158cm | 24 inches to 29 inches | 61cm to 73cm | Less than 14 inches | Extra small |
| 5ft1 to 5ft5 | 158cm to 168cm | 25 inches to 30 inches | 63cm to 76cm | 15 inches to 16 inches | Small |
| 5ft5 to 5ft9 | 168cm to 178cm | 26 inches to 31 inches | 66cm to 78cm | 16 inches to 17 inches | Medium |
| 5ft9 to 6ft | 178cm to 185cm | 27 inches to 32 inches | 68cm to 81cm | 17 inches to 18 inches | Large |
| 6ft to 6ft3 | 185cm to 193cm | 28 inches to 33 inches | 71cm to 83cm | 18 inches to 19 inches | Extra large |
| 6ft3 to 6ft6 | 193cm to 198cm | 29 inches to 34 inches | 73cm to 86cm | Over 19 inches | Extra extra large |
Mountain Bike Size Guide
Related reading: What Size Bike Do I Need / Bike Size Chart – 7 Bike Size Guides Explained
The Build
The Marlin 7 is outfitted in Shimano instruments. Shimano is well-known in the bicycling world as being a forerunner in quality bike parts. 
With the Marlin 7, you'll get seamless shifting thanks to the Shimano Deore 10 speed shifter and derailleur.
Mash pedals to your heart's content with the durable FSA Alpha Drive crank.
And be gentle on those responsive Shimano hydraulic disc brakes or you'll find yourself eating dirt. 
The lightweight frame keeps this beast easy to ride and easy to transport.
If you've ever lugged around a clunker of a cheap bike, you'll understand the value of a light frame.
But just because it's easy on the shoulders doesn't mean it's flimsy. 
With that Alpha Silver Aluminum construction you'll get a durable, yet dreamy, ride. Go ahead and ride loose on the Marlin, you'll have the lift to do so.
Better yet, a lightweight frame means you're using less power output to propel, giving you the ability to extend your ride and dodge the bonk. 
Overall, the gear this bike is decked out with easily makes it worth the price. 
The Marlin 7 Look
Trek knows how to make a looker. The Marlin 7 cruises up in two luxe colors.
Go for steely suave with the Matte Nautical Navy and Matte Anthracite for classic darkness.
Or choose the starburst flame color combo of Marigold to Radioactive Red Fade. Neither color choice is too masculine nor too feminine. 
The internal cable routing keeps the body sleek and free of fussy interruptions.
There's no need to worry about resting your bike on the cables when you load it onto your car rack.
This internal routing also gives the cable lube a longer half-life as it's protected from the grit and grime you encounter on the trail. 
Other fancy visuals on the Marlin 7 include:
✔️ Minimalist disc brakes – no more bulky brake head at the top of your wheel
✔️ Slim Bontrager saddle – no embarrassingly large beginner seat
✔️ Blendr stem: a Bontrager jewel that allows you to add devices seamlessly. You won't be jerry-rigging zip ties and foam spacers to get your gear to fit.
The Marlin 7 is stylish yet sturdy. It looks like it can handle the trail, and indeed it can.
The Ride
This bike feels fast. It's lightweight and agile and handles like a dream. You'll get enough shock absorption from the front fork for a comfortable trail ride and excellent components for great shifting. 
When you thunder down off the trail and onto paved paths, simply turnkey the lockout on the front fork to prevent the shock from plunging.
This will mimic a solid front fork to improve your pedaling efficiency and give you a more comfortable ride. When you hit the next trail, turnkey the plunge back on and roost dirt. 
There's no need to keep this bike chained to the trail. It makes a fantastic commuter as well.
With an accessible price point, you can easily use the Marlin 7 to get you from house to work and back, while still keeping the flexibility to hit an after-work trail.
Take advantage of these features for commuting needs:
✔️ Back rack mounts: install some panniers for storage
✔️ Kickstand mount: for easy propping. Just don't get caught with a kickstand when you're on the trail. You'll get called out quicker than having a Cat 5 tattoo. 
Throughout the user reviews, you'll find praise about the Marlin's responsive shifting, great brakes, light and fast ride, and ability to handle rough terrain.
In summary, it's a versatile ride that can adapt to different environments and handle the tough stuff. 
Very capable out of the box at a great price!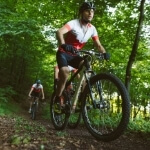 "I do a lot of wheelies as I am on the bike life scene. This bike is amazing for wheelies (of course) but it is a very capable hard tail mountain bike and comes in at a great price point. This should be everything you need for a starting riding or someone who wants a very capable bike for around town. I have taken this bike everywhere and it is amazingly fast and handles well"
Reviewed by: Carter (Modesto, CA)
Great Bike for the trail!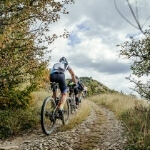 "I use the Trek Marlin 7 for the MTB trials and for some road biking with the lockout front suspension feature. Very easy and fun to use due to the weight and simple 1×10 drivetrain."
Reviewed by: Brian (Atlanta, Georgia)
Where It Could Go Better
There's always room for improvement, right?? The Marlin 7 bike is a fantastic base model, don't get me wrong, but there are a few tweaks we would make if put in charge of Trek for the day (what do you say, Trek?).
2×9 Drive Train
This is a positive for a lot of people. It simplifies shifting, gives you peace of mind that your cog can handle all the gears, and will provide enough gear space for most users.
However, for the more vigorous riders, you could be disappointed. 
On those gnarly fast downhill runs, you might feel like you run out of gears. With a single drive train bike, you won't have a huge array of gearing options to choose from.
Take a look at the Marlin 6 model for a bike with more gears. 
The Fork
Things could go better with the coil fork. The 100mm travel distance won't be enough for riders at the end of the bikes 300lb weight limit spectrum.
The turnkey lockout feature is quick and easy to use and the preload function is handy, yet the usability nearly stops there. 
For a wider range of tuning and a plusher plunge, you'll certainly want to upgrade. There are forks out there that feature a travel distance of over 200mm.
That's double that of the RockShox Judy on the Marlin. 
Pros
✔️ Disc brakes
✔️ Internal cable routing: hidden cables lend to a clean look
✔️ Great performance for the price: entry-level Shimano components give you a great starting point that's easy to upgrade from.
✔️ Gear indicator: great as a position reminder for beginners or intermediate riders
✔️ Excellent brakes for a mid-range bike: handle any weather and have confidence in your stopping power.
Cons
❌ The paint scratches pretty easily, so don't go tossing this bike into a thicket of blackberry creepers.
❌ A few components could use an upgrade, but only an experienced rider would notice this.
Ideal Rider for The Marlin 7
The Marlin 7 was made for the ready rider that wants an adaptable mid-level mountain bike.
This will be the person who might want a commute vehicle that is capable of shredding the trail.
It would also be a stellar choice for the person interested in getting into mountain bike racing. 
When it comes to racing, a bike can win or lose a race for you. In trail competitions, you've got maybe 100 yards or so of open space before diving into dense woods and skinny single track.
This bike can kick off with a throttle like acceleration and stick with the pack. And when you get into some dirt, it can handle about anything you throw at it. 
This intermediate-level bike was made for riders of the following decree:
Leisure trail pursuers 
Mid-range shredders
Off-road commuters
Aspiring racers
New riders
What this bike wasn't made for is downhill racing. For that, you'd want a frame with full suspension to be able to handle the abuse of the slope.
It probably also isn't the best model bike for the leisurely rider that just wants to cruise on the boardwalk.
Find a groovy hybrid, paint some flowers on it, and release this Marlin back to the trail it belongs on. 
Trek Marlin 7 Women´s Review
For the female riders out there looking for a frame more suited to the anatomy of a woman, I recommend the Trek Marlin 7 Women´s.
The Marlin 7 Women´s is a women-specific model in the Marlin lineup. 
The smooth, lightweight RockShox fork and the largest selection of gears in the Marlin family make this model the best choice for new riders looking for a cross-country hardtail with great parts that can stand up to our higher-end racing bikes.
| Features | Specifications |
| --- | --- |
| Frame | Alpha Silver Aluminum, internal routing, chainstay disc brake mount, rack and kickstand mount, 135x5mm QR (lower standover on 13.5″ and 15.5″ sizes) |
| Fork | RockShox XC 30, coil spring, preload, TurnKey hydraulic lockout, G2 Geometry w/51mm offset on 29ers, 100mm travel (13.5: 80mm travel) |
| Front Hub | Formula DC20 alloy |
| Rear Hub | Formula DC22 alloy |
| Tires | Bontrager XR2, 29×2.20˝ front, 29×2.00˝ rear (13.5 & 15.5: 27.5×2.20˝ |
| Shifters | Shimano Altus M2000, 9 speed |
| Bottom Bracket | Sealed cartridge, 73mm |
| Chain | KMC X9 |
| Pedals | VP-536 nylon platform |
| Saddle | Bontrager Ajna 1 Women's |
| Seatpost | Bontrager alloy, 2-bolt head, 31.6mm, 12mm offset |
| Handlebar | Bontrager alloy, 31.8mm, 5mm rise, 720mm width (13.5, 15.5: 690mm width) |
| Grips | Bontrager XR Trail Comp, nylon lock-on |
| Stem | Bontrager alloy, 31.8mm, 7 degree, Blendr compatible |
| Brakeset | Tektro HD-275 hydraulic disc (13.5 & 15.5: Tektro HD-276 short reach lever) |
| Headset | 1-1/8˝ threadless, semi-integrated, semi-cartridge bearings |
| Weight | S – 13.65 kg / 30.09 lbs (with tubes) |
| Limit weight | This bike has a maximum total weight limit (combined weight of bicycle, rider, and cargo) of 300 pounds (136 kg). |
What's the right Mountain bike size for me? 
In the table below you will find a detailed Mountain bike size chart:
| Your Heigth | Your Height | Your Leg Inseam | Your Leg Inseam | Best Frame Size | Best Frame Size |
| --- | --- | --- | --- | --- | --- |
| Feet and Inches | Centimeters | Inches | Centimeters | Inches | Sizes |
| 4ft10 to 5ft1 | 148cm to 158cm | 24 inches to 29 inches | 61cm to 73cm | Less than 14 inches | Extra small |
| 5ft1 to 5ft5 | 158cm to 168cm | 25 inches to 30 inches | 63cm to 76cm | 15 inches to 16 inches | Small |
| 5ft5 to 5ft9 | 168cm to 178cm | 26 inches to 31 inches | 66cm to 78cm | 16 inches to 17 inches | Medium |
| 5ft9 to 6ft | 178cm to 185cm | 27 inches to 32 inches | 68cm to 81cm | 17 inches to 18 inches | Large |
| 6ft to 6ft3 | 185cm to 193cm | 28 inches to 33 inches | 71cm to 83cm | 18 inches to 19 inches | Extra large |
| 6ft3 to 6ft6 | 193cm to 198cm | 29 inches to 34 inches | 73cm to 86cm | Over 19 inches | Extra extra large |
Mountain
Bike Size Chart
---
An awesome bike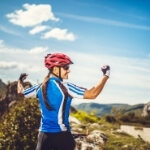 "I use this MTB for doing dirt bike jumps and just going on rides anywhere ~ it's so useful!! It's really good for doing trails in bush land and the speeds are amazing! I've stuck with Trek bikes my whole life and this one is my favorite!!"
Reviewed by: Edinson (Shawnee, Kansas)
Great value for money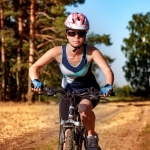 "I'm a super novice mountain biker and found this bike to be really good value for money. It's beautiful and smooth, gears change smoothly as can be and the brakes are fantastic. Overall, great entry level bike that I can take to the mountains any day"
Reviewed by: Rita (Alberta, Canada)
---
"Sharing is caring! Share the women's bike size guide with all the ladies out there".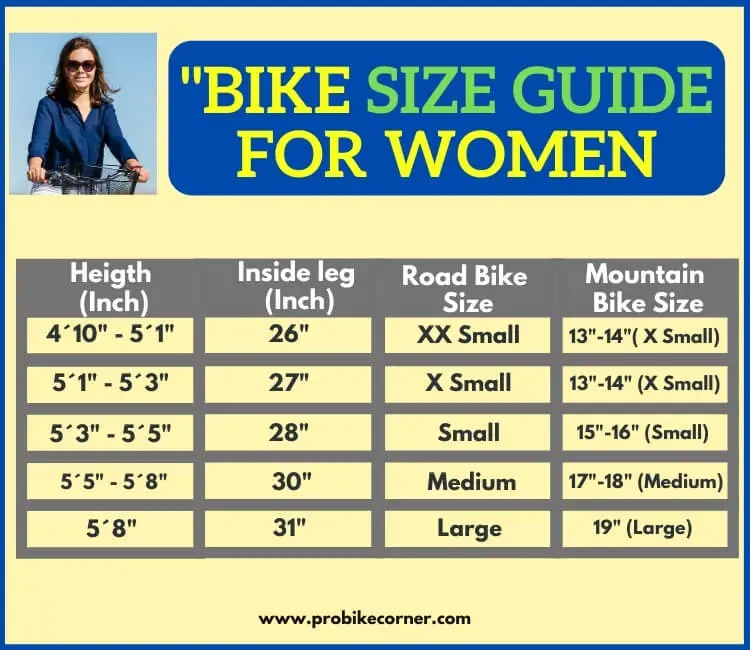 Make The Most Out of Your Trek
With the base model Marlin, you'll have a very capable bike. But when you're ready for an advanced ride, there are some upgrades you can make. 
Upgrade those platform pedals to clip-ins. If you aren't ready to feel like you are cemented to your bike (it's not that bad, just takes some getting used to) then opt for toe cages. 
Swap out the fork for a more beastly choice to tackle serious trail debris. 
Other changes to consider down the line for more serious riders:
? Stem: add a custom touch to fit your unique body size. Longer stems are great for putting you in a more streamlined position for racing and speedy riding. 
? Seat: the lower the profile and the lighter the seat, the better. Though if you're a rider that's counting bike weight down to the gram, you need to pony up for the more expensive Treks. 
? Grips: get a set that's more durable and comfortable for long rides or iron grips. 
? Seat post: go for a dropper post for the most adaptable riding. Like an office chair, this seat post will adjust up or down by use of a remote or lever.
This allows the rider to manipulate their center of gravity for the most fluid riding on technical trails. 
? Tires: if you're rolling on trails with heavy debris, think of upgrading the tires to prevent flats and punctures.
You can also chub out your tires to 2.4s, but that's about as large as you can go. You can also get crazy and convert to tubeless. 
? Fork: for the hefty riders, you can think about upgrading to a more robust front fork for better shock absorption for your weight. 
Why would you want to upgrade these elements? On the base model, they're solid. But they aren't gladiator-level strength.
If you're putting this bike to the test and hitting the trail every weekend, make sure the bike can keep up with you. Leveling up your bike components is a sure way to do this. 
Don't stress out though. You can bail on these upgrades if you'd rather keep it cruise-y.
And honestly, if you're going this heavy on the up-leveling, you might just be due to shell out for a high-level bike model and donate your Marlin 7 to your aspiring-rider cousin. 
3 Alternative Recommendations for the Trek Marlin 7 Bike
We've reviewed the Marlin 7 in detail and loved that it was a race-ready intermediate level mountain bike at a great cost.
As good of a bike it is, doesn't mean it's going to be the best choice for everyone. 
If you're looking for more or less, we've got you covered. Just like the dirt from the trail will soon.
This mini-guide will provide you with three alternatives to the Marlin 7.
Let's put foot to pedal and get going on the lineup.
| Features | Norco Fluid HT2 | Giant Fathom 29 | Trek Merlin 6 |
| --- | --- | --- | --- |
| Fork | SR Suntour XCM32 LOR DS 120mm | Giant Crest 34 RCL, 130mm, Boost 15×110 | Suntour XCT 30, 100mm |
| Wheels | 29″ | Giant AM 29 | Bontrager Connection 27.5″ – 29″, Max Tire size is 2.4″ |
| Shifters | Shimano Deore | SRAM SX Eagle | Shimano Altus M315 |
| Cranset | Shimano Deore | SRAM SX Eagle | Shimano M315 |
| Price | Approx. | Approx. $1300 | Approx. $699 |
Trek Marlin 6
Kicking it off with an introductory mountain bike by Trek. As you've likely summarized from the name, the Marlin 6 is the little brother as the Marlin 7.
You're spending a good amount less but will still get an efficient and capable ride. 
You're still going to get the benefits of internal cable routing, hydraulic disc brakes, and a coil spring fork with 100mm of travel. 
Fork: Suntour XCT 30, 100mm
Wheels: Bontrager Connection 27.5" – 29", Max tire size is 2.4"
Shifters: Shimano Altus M315
Crankset: Shimano M315
The Marlin 6 weighs a few more pounds than the 7, but it won't be of much notice unless you're picky about it.
Overall, it's a zippy little bike that can get you going on the trails. This is the bike for those beginner mountain bike riders that aren't ready for the more aggressive race-like posture of the Marlin 7!
Norco Fluid HT2
This cross country bike by the Canadian brand, Norco, is about on the same level as the Marlin 7.
Though you're paying about the same amount for another intermediate bike, there are some serious differences between the two.
You'll get the same Shimano Deore shifters but gain an improved fork, dropper seat, and nice and chunky 2.6" tubeless capable tires.
The Fluid is a cool looking bike with dark moody colors and a smooth frame with internal cabling.
Where the Marlin 7 was focused on beginner racers, the Fluid applies best to the rider wanting to have fun on the trail.
Fork: SR Suntour XCM32 LOR DS 120mm
Wheels: 29"
Shifters: Shimano Deore
Crankset: Shimano Deore
For nearly the same price, these bikes carry their differences.
This Norco does show up with features that the Marlin 7 is missing out on, like the dropper seat! When you are looking for something to grind out dirt and descend like a billy goat, here's your bike. 
Giant Fathom 29 
The Giant brand is a … giant in the biking industry. Their Fathom 29 is a bike pushing out of the intermediate-range into high-level business.
It's a smooth, stable, and speedy hardtail meant for tearing up single track. 
Two main upgrades we notice right away on the Fathom compared to the Marlin 7 is increased plunge travel on the air spring fork (130mm) and the inclusion of a dropper seat.
This bike is a nice and hefty step in mountain biking capabilities. 
Choose from a lustrous black or desert sage for color on that ALUXX SL-Grade Aluminum frame.
For the rest of the features, you'll find:
Fork: Giant Crest 34 RCL, 130mm, Boost 15×110
Wheels: Giant AM 29 
Shifters: SRAM SX Eagle
Crankset: SRAM SX Eagle
Spending extra on this bike will get your stiffer wheels for better control, tubeless tires (that flat-free life is where it's at), and improved ride stability.
This is the bike for you when the Marlin 7 doesn't deliver enough. 
Link: https://www.giant-bicycles.com/us/bikes-fathom-29-2021 
Ready, Set, Ride!
You've got three smokin' bikes in front of you to choose from! Find the one that fits you best, and get to riding. 
For the beginner bikers that want to get started, but not sink a ton of cash in right away, Marlin 6 is for you.
When you loved the Marlin 7 but were missing cool features like a drop seat, just shuffle over to the similar price point Norco Fluid HT.
And finally, for the elitists among us, wanting something fancier, you've got the Giant Fathom 29 that can take on some serious trails. 
The Trail End
There you have it: A deep and dirty dive into the Marlin 7. All that's left to do is decide what color frame you want.
You know this bike can handle the trail and ride like a breeze on the road, now it's up to you to put it to work. 
An especially excellent choice for the wannabe racer, this Trek bike's affordability to performance ratio is ideal.
It's worth the money with great gearing, durable construction, a cool look, and adaptable uses.
Built to last, this impressive cross country bike will take you through miles upon miles of mud and trail. 
3 Cycling GPS Computers I Recommend
1. Garmin Edge 130 Plus Bike Computer
The 130 Plus fits nicely in the product line between a basic computer and a full mapping solution.
Gives lots of flexibility on data display, seamless connects to 3rd party HR sensor and Garmin cadence sensor.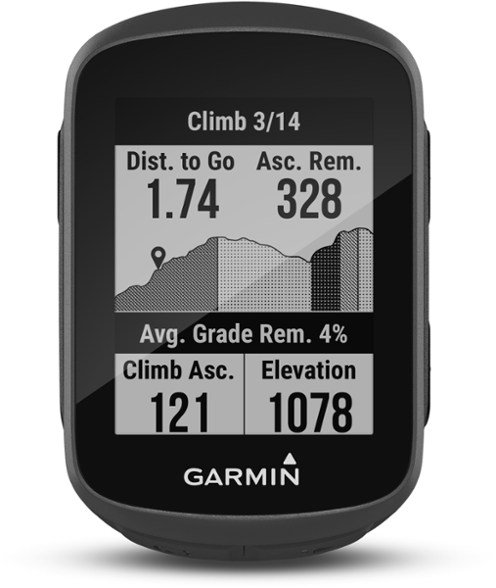 Purchase: If you are interested in the Garmin Edge 130 Plus Bike Computer then just follow the link to REI where you can see current pricing.
2. LEZYNE Enhanced Super GPS Cycling Computer
The Enhanced Super GPS is probably the best mid-range computer available today.
It is NOT the prettiest computer available, but if you can learn to love this ugly baby, you will be rewarded with a computer that performs.
Purchase: If you are interested in the LEZYNE Enhanced Super GPS Cycling Computer then just follow the link to Amazon where you can see current pricing.
3. Wahoo Fitness ELEMNT BOLT GPS Bike
One of the best gadgets I´ve bought in a while.
I took the bolt out for a first 2 day ride in nature and the GPS navigation (which was the most important features for me) worked perfectly.
Purchase: If you are interested in the Wahoo Fitness ELEMNT BOLT GPS Bike then just follow the link to REI where you can see current pricing.
References:
https://www.giant-bicycles.com/