Have you ever asked yourself or your friend if Trek bikes are good or Trek bikes worth the money? Well, you are at the perfect place to find the answer to such a question.
For more than 30 years now, Trek bicycles have had an almost legendary reputation in the cycling world.
Particularly well known for their mountain bikes, their road and racing bikes, and (more recently) there hybrid electric bicycles, you know that when you get your hands on a Trek bicycle you're getting something really special.
At the same time, there isn't a bicycle brand on the planet that doesn't promise the moon and the stars about the caliber and quality of the bicycles they put out.
More bicycle options are available today their maybe ever before, with new brands popping up left and right. Trying to find the right bicycle – especially when you're looking to spend a decent amount of money on something of real quality – is a lot harder today than it used to be.
But that's why we have put together this detailed guide.
By the time you're done with the inside information below you'll know whether or not Trek bicycles are worth their premium price tag and what makes them so special.
Let's dive right in!
Quick History of Trek Bikes
The history of Trek Bikes as a company is similar to a lot of other amazing American businesses that began in the 1970s.
Cooked up in 1976 by close friends Bevill Hogg and Dick Burke while drinking beer at a favorite bar in Lake Mills, Wisconsin, the two company cofounders fondly remember the moment that they came upon the new name for their budding company.
A few weeks after that they opened up shop in a barn situated between Madison and Milwaukee, and almost immediately hired on five employees (plus themselves) to start making amazing bikes with rock solid steel frames.
The company moved its headquarters to Waterloo, Wisconsin along the line but this early history and renegade founding of the company cemented its DNA.
The company has always been about forging a path forward with a lot of fun and a lot of freedom and they've never forgotten about the steel frame backbone that runs through each and every one of their bikes, too.
Today, Trek is considered one of the most wildly successful small business stories in America.
This company produces some of the very best bicycles made anywhere on the planet and while it has a true global reach (with customers all over the world) it still maintains its hyper local focus, it's small-town and small business DNA, and a commitment to excellence rather than pure bottom line profits.
Related reading: Where Are Surly Bikes Made? What You Need To Know
Some of the manufacturing of Trek bicycles as moved overseas (with the exception of the top-of-the-line Trek carbon fiber frames that are 100% made in the USA), but all designing, engineering, and assembly happens in America still today.
Are Trek Bikes Any Good?
To put it bluntly, Trek bicycles are anything but budget focused options which is why so many people want to know whether or not they are worthwhile in the first place.
We can tell you that Trek bicycles are unequivocally considered to be some of the very best bicycles money can buy, regardless of whether or not you are getting your hands on a mountain bike, road or race bike, or one of the electric hybrid bikes that Trek is putting out now.
Sure, these bicycles command a pretty penny (especially if you bump up to those carbon fiber frames we mentioned a moment ago).
But a lot of that has to do with the "special sauce" of Trek bicycles that remains a big part of the company's success, a focus on producing only the best and highest performing bicycles money can buy.
If you've got the budget for a Trek bicycle you'll never regret the purchase.
Incredibly well-designed, impeccably manufactured, and fined tuned straight from the factory and the assembly floor, there's really nothing quite as capable "right out of the box" in the cycling world as a Trek bicycle.
Related reading: Is Specialized Overpriced? (FACTS You Should Consider)
What Makes Trek Bikes So Special?
In the early days, the focus on only super high quality (yet ridiculously lightweight) tubular steel frames gave Trek a distinct advantage compared to the competition.
In the middle 1970s (right on through to the early 1990s, really) there just weren't a lot of companies making high-quality tubular steel framed bicycles capable of going pretty much anywhere imaginable off-road.
Company started to catch on to the things that Trek was doing well around 2000 and that's when high-end cycling really started to see a new wave of top-flight options.
It was about here that Trek started to pivot towards carbon fiber frames, embracing this (still at the time) incredibly expensive material that dropped even more weight than a tubular steel frame while offering almost the same strength benefits.
At the same time, Trek started to fool around with other technological advances like their patented IsoSpeed decouplers.
This proprietary technology is featured at the front and the back of most Trek bicycles, with the front unit working to dampen impacts and allowing a little more steer tube flex than what would have been possible with a standard upper headset cup.
The rear unit provides a little more vertical seat tube deflection for improved comfort while riding on rough and rocky terrain.
This immediately translates into better handling and more control, too.
Recently Trek has also been playing around with internal storage compartments hidden throughout a lot of their road and mountain bikes.
Many of these "popout" compartments are engineered specifically to offer on and off road racers access to tools they need to make quick fixes, adjustments, or repairs on the go.
All of this is made possible without adding a lot of extra weight to the bicycles or throwing off the otherwise aerodynamically (near) perfect frames themselves.
Related reading: How Much Weight Can a Bike Rack Hold? [Real FACTS]
The last thing we want to touch on that Trek does a little differently than everyone else is an approach that breaks down the barriers between men's and women's bikes specifically.
Trek has in the last 10 years began to move completely away from separating their bike options into men's bikes and women's bikes and instead have aims to create "bikes for everyone".
Unisex sizing options have helped to streamline operations for sure, but this approach has also compelled their designers and engineers to find smarter ways to build great bikes for everyone – bikes that fit your body in the type of riding you are going to do as opposed to your gender alone.
Read also: Are Touring Bikes Fast? (The TRUTH)
This feels like a seachange and radical shift in the high-end bicycle world but it's one that more and more companies are getting ready to embrace because of how well it's worked out for Trek.
What Kind of Bikes Does Trek Build?
As we mentioned earlier, Trek offers a variety of different bikes in a number of different configurations, shapes, and sizes.
You'll never have to worry about struggling to find a Trek bike built for you in the kind of cycling you are interested in.
Mountain Bikes
Mountain bikes have always been the "bread and butter" of the Trek product range.
Certainly the main focus of the Trek company when it was first created (and still today), Trek currently offers more than a dozen different models of mountain bike to pick and choose from – all available in unisex sizing – for beginners, novices, and professional cyclists alike.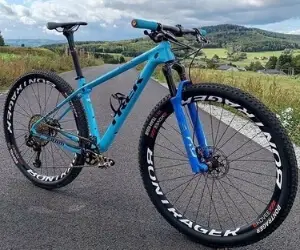 Road and Race Bikes
Trek also has a full range of road and race bikes to pick and choose from, all featuring a lot of that iconic Trek DNA that has made their mountain bikes so spectacular.
These bikes are (obviously) a little slimmer, little stiffer, and not as well optimized for taking off-road – but once you get them on a stretch of pavement they show exactly why they are so beloved by amateurs and serious professionals alike.
Super lightweight, superstrong, and eminently capable, a lot of the high-end carbon fiber frames made by Trek are designed with road and race cycling in mind.
Electric/Hybrid Bikes
Relatively recently Trek started to rollout a brand-new lineup of electric and hybrid bicycles, commuter style bicycles that are fun, look aggressive, and our super comfortable to pilot on city streets, suburban sidewalks, and country roads alike.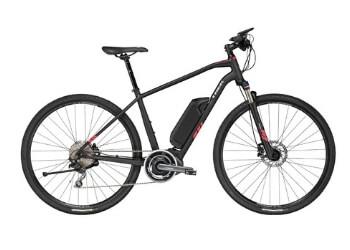 Not a dedicated electric or hybrid icicle company by any stretch of the imagination that these Trek options feel like Trek bikes that feature electric or hybrid components more than anything else.
Stylish, fun, and (relatively) affordable these are well worth a closer look for sure.
Final Thoughts
At the end of the day, if you're worried about the premium price tag that Trek bicycles have attached to them you certainly aren't alone.
These are not the kinds of bicycles you'll find filling out a bicycle rack somewhere in the sporting goods section of a local department store. They are also not (usually) the kinds of bicycles you'll find at a secondhand or consignment shop in your community, either.
No, these bikes are precision engineered pieces of technology that are unanimously considered to be right up there with the top options in the cycling world anywhere on the planet.
Sure, you usually have to spend a pretty penny to get your hands on a Trek bike – but everyone that owns one agrees they are worth every cent. Combine that with legendary craftsmanship and engineering (as well as customer support) that guarantees they will work well for decades to come and getting a Trek is a no-brainer if you really want something special.
Are Trek bikes really any good?
You bet they are!
References
https://electricbikereview.com/brand/trek/