The success that Surly has had as a bicycle company surpassed anything that the creators of this brand could have ever imagined.
Started by a couple of friends in the 1990s in a suburban garage located just outside Minneapolis and St. Paul, the originators of the Surly brand were really only trying to fiddle around with single speed bicycles when they got started.
By the time the year 2000 rolled around Surly single speeds were legendary throughout the cycling industry.
And it didn't take all that long from there for this company to start expanding their bicycle designs, eventually becoming the giant that they are today.
Along the way, though, Surly has always been about one thing above all else – building bicycles that are fun to ride!
This is a company that is dedicated to designing bicycles intelligently, creating versatile bikes that can go from the road to off-road terrain and back again without much trouble, and offering bicycles at (relatively) affordable price points across the board.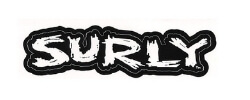 If you've been on a hunt for a new bicycle and want something of real value, but don't want to spend a mountain of money along the way, you want to check out everything that Surly bikes have to offer.
A Quick Overview of Surly Bicycles
As highlighted above, Surly bicycles started off with an extreme and almost laserlike focus on single speed options alone.
The overwhelming majority of adult bicycle frames at that point in time (back in the 1990s) were nothing more than overhauled cruiser frames.
These bikes were big, bulky, handled like a Cadillac and were far too delicate to take off-road – especially if you were going to pick up any speed off the beaten path.
On top of that, the amount of single speed bicycle components available for any of the major bicycle brands at that point in time were severely lacking.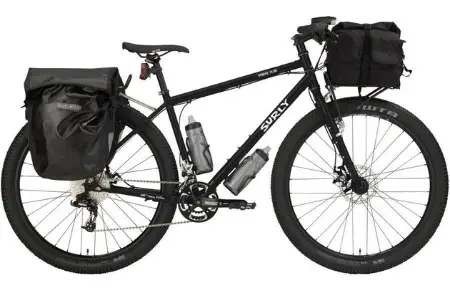 Not only did you have just a handful of companies making single speed components – but the components that they were producing were usually pretty cheap, pretty poorly designed, and definitely nowhere near the performance-enhancing components you'll find from companies like Surly today.
Looking to change the industry from top to bottom, a handful of friends and serious cycling enthusiasts (many of which worked at Quality Bicycle Products in the Twin Cities) decided to branch out on their own and build the Surly Bicycle Company.
Related: Where Are Surly Bikes Made? What You Need To Know
Getting almost immediate investment from some of the higher-ups at Quality Bicycle Products (one of the largest distributors of US-made bicycle components), Surly hit the ground running with the "Singleator 2000".
This single speed bike was a blockbuster hit and sold out almost immediately.
Surly new they had something exciting on their hands and went to work rolling out there second bike, the 1×1 Rat Ride. Sales exploded for this bicycle to, allowing Surly to branch out a little bit and reinvest into their manufacturing capabilities.
By the middle of the early 2000s they were pumping out some of the best single speed bicycles available. It wasn't long after that until Surly was producing other kinds of bikes, too.
Today this company is seen by serious cyclists as one of the most innovative in the industry.
If you're looking for something on to ride, Surly has you covered!
What Makes Surly Bikes So Special?
Above everything else the folks at Surly want to make sure that their bicycles are 100% "rider driven".
This means that the engineers behind Surly bicycle models first think about what cyclists are after with a particular bicycle type and then reverse engineer that ideal until they come up with something really special.
After the general idea of the bicycle has been created the team goes to work refining every single component.
Changes are made to these model plans to come up with something very versatile, something ridiculously durable, and something that is completely different than anything else on the market at that point in time.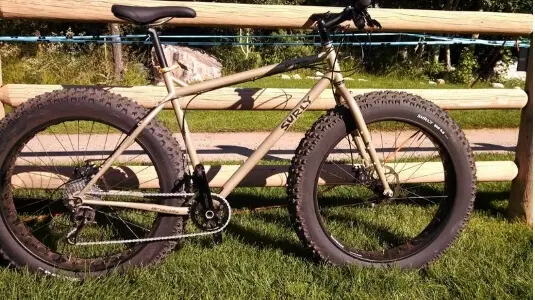 The final piece of the puzzle during the Surly production process that makes these bikes so awesome is a cost saving approach across the board.
While Surly looks to find ways to shave the price of their bicycles as much as possible they never (NEVER) cut corners just to cut costs.
These bicycles may never cost as little as a department store special bike, but they won't blow huge holes in your bank account the way other premium brands might, either.
You're going to get something really special, something well-made, and something you'll have a blast riding around without spending the same amount of money that could have bought you a used Honda Civic.
It's not uncommon for a Surly bike to set you back a few hundred (or even a few thousand) dollars, though. However, most fans of the brand consider this money well spent on a bicycle that will last a lifetime (and then some).
Are Surly Bikes Worth Their Premium Price Tag?
Each person is going to have to figure out whether or not Surly bicycles are worth their price tag on their own, but there's a reason why this brand is one of the most beloved in the cycling world today.
Whether we are talking about the "station wagon" styling of the Surly Big Dummy, the "literally go anywhere" Pugsley, or the "pack into your carry-on bag" Travelers Check bicycles there's something for everyone in the Surly lineup.
Best of all, these kinds of bicycles are designs you will have an absolutely impossible time finding anywhere else.
Sure, there are a couple of gimmicky chop shops out there putting out wild and wacky bicycles every now and again.
But there aren't any major bicycle brands looking to produce "off kilter" bikes like these that ride well, that are so innovative from a design standpoint, and that are so well-made across the board.
If you're sick and tired of off the rack bicycles that you'll probably find your money well spent on a Surly set up.
Read also: Is Specialized Overpriced? (FACTS You Should Consider)
How to Get a Great Deal on a Surly Bike
There are a couple of ways you can get a great deal on a Surly bike, with the most obvious approach being picking one up secondhand after very close inspection to make sure that it still rides straight and true.
Because these simple, no-nonsense steel frame bicycles are so durable it's really tough to wreck one.
Durability is a huge cornerstone of this brand. Their bicycles are designed to look just as good as brand-new for 50 years or more with only a little bit of maintenance. The construction materials selected support that longevity, too.
Even still, anytime you pick up a secondhand bicycle you'll want to put it through its paces.
Look for stress on the frame, and the forks, and on the wheels especially. Look for obvious signs of damage or degradation, too.
Make sure that the chain runs smooth and free, that the brakes work well, and that the seat is easily adjusted and comfortable.
As long as you check all of those checkboxes on a secondhand Surly you should be good to go!
Secondly, you'll want to watch the Surly website like a hawk.
Though you won't be able to purchase a Surly bike directly from the official website they will make announcements about specials, deals, and promos available on the bicycles that they offer through their authorized distributors.
The sales and discounts can usually be good for anywhere between 15% and 30% off on the everyday price tag on these bicycles.
That's a great way to put a little bit of extra cash in your back pocket while still getting an amazing bike from the folks at Surly.
It's also not a bad idea to pay attention for any "next model" releases from the folks at Surly, either.
Anytime an older model is getting retired, getting overhauled, or being replaced the chances are good you be able to get a great deal on the outgoing models before Surly pulse the plug.
Sometimes you have to contact dealerships and distributors directly to find out what kind of deal you can get, but Surly makes that easy through their website, too.
Closing Thoughts
At the end of the day, it's important to remember that Surly bikes are quite a bit different than anything else you'll find on the market today.
The premium price tag associated with these bicycles is part and parcel with the uniqueness of these designs.
Surly engineers have never been interested in pumping out "same old, same old" bicycle designs. They've always (right from day one) pushed out something a little different and a little unique, and that same DNA runs top to bottom through the Surly company still today.
Of course, if you are interested in a bike that is wildly different than anything else on the market right now – especially if you want something in a single speed configuration that has a unique form factor and style to it – it's tough to beat the options from the folks at Surly today.
They definitely make bikes that are a bit wilder than anything else your come across.
The single speeds are cool, funky, and are overflowing with personality – just like the people that have loved zipping around on these bikes ever since the mid-1990s!
References